Home Business Magazine Online
If you are worried about keeping your business afloat in the face of a global recession, you are not alone. According to a World Bank study, the world is headed towards a recession, with global GDP growth expected to slow 0.5 percent in 2023. For ecommerce business owners, the million-dollar question is: How can you weather the storm and keep your business thriving despite such challenges? Understandably, it will take more than just having a catchy website to skyrocket your ecommerce business.
The tips in this article will help you strengthen your ecommerce business and stay competitive all year-round — even in a recession and tough economic conditions.
1. Use Data to Guide Your Decisions
Use data and analytics tools to track your performance and make informed decisions about where to focus your efforts. The tools can help you identify areas of your business that are performing well and areas that may need improvement.
Analyze customer data. Look at your customer data to identify trends and patterns. It can help you understand what your customers are looking for and how they interact with your business.
You can use this information to tailor your product offerings and marketing efforts to better meet your target audience's needs and preferences. For example, Kissmetrics helps you analyze and get detailed customer activity reports, such as your most viewed and purchased products and popular site searches.
Track key performance indicators (KPIs). Monitor KPIs such as sales, traffic, and customer acquisition costs to determine how your business performs.
Your KPIs can help you identify areas of strength and weakness, guiding you to make data-driven decisions when it comes to allocating resources and optimizing your operations.
Use analytics tools. Leverage analytics tools to track and analyze data about your website and marketing efforts.
Analytics tools can help you discover valuable insights in your business's performance and help you make more informed decisions to improve your marketing, sales, and other business operations.
Monitor industry trends. Stay up to date on industry trends and use data to understand how these trends might impact your business.
By employing these practices, it will be much easier to adapt your business model to unpredictable market conditions.
2. Focus on customer service
During a recession, customers may be more hesitant to buy and will likely choose a business with top-notch customer service. Here are some ways to help improve your customer service:
Offer multiple contact options. Provide customers with various ways to reach you, such as email, phone, or live chat. Doing so can help buyers resolve issues promptly, improving the customer experience.
Ensure you have a clear returns policy. Outline the conditions for returns in a clear and concise manner, visible to all customers when making a purchase, so that there is no gap between the customers' understandings and your returns policy.
Make sure to include details such as return timelines, condition of the product, and shipping instructions so that everything is transparent from the get-go. This is a key factor in establishing trust with your customers and increasing their likelihood of making purchases.
Use automated tools to improve efficiency and flexibility. Automation software is designed to turn your repeatable, routine customer service tasks into automated actions. It can make your customer service operations more efficient by enabling you to handle a higher volume of customer inquiries in a shorter amount of time.
Automated tools also help you offer support to customers around the clock. This can be especially important during a recession when you will need to do everything in your power to stay competitive.
It can be helpful to use a reliable help desk software such as Zendesk. The platform automates the process of finding abandoned tickets that need updating, notifying agents when assigned tickets remain unresolved, and closing tickets after they have been solved.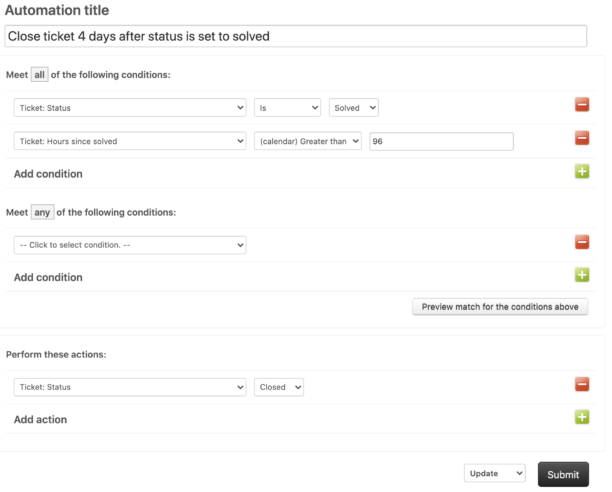 Image source: support.zendesk.com.
3. Consider External Financing Options
External financing options can help your ecommerce business stay afloat and even succeed in a recession by providing the following:
Access to capital. External financing options can provide a much-needed lifeline to capital that you can invest back into your business when cash flow is tight. They can also help solve capital barriers to purchasing inventory, hiring additional staff, or upgrading equipment.
Improved cash flow. Obtaining external funds can improve your cash flow by helping your business meet its various financial obligations. A healthy cash flow is crucial to help you manage your business's expenses, allocate resources efficiently, and to give you the flexibility needed to fix potential issues before they cause serious damage.
Before deciding which financing option to go with, carefully consider the terms and conditions for each one. For example, 8fig is an ecommerce funding and planning platform that provides capital optimized towards each business's unique cash flow based on its supply chain needs.
The platform provides tools for supply chain planning and product-specific revenue forecasting. Moreover, it has a flexible remittance schedule, granting business owners the cushion they need to plan appropriately and efficiently.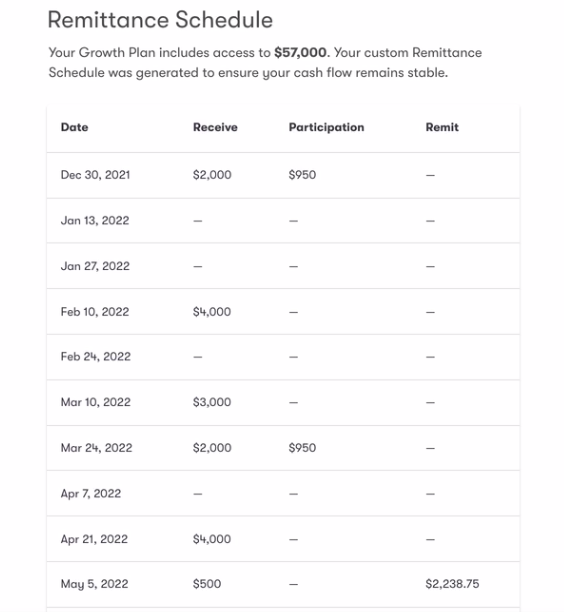 Image source: 8fig.co.
Tools like 8fig can be useful financing options in a recession when your business might easily be short on funds. If in doubt, seek advice from a financial consultant to help you decide which external financing option best fits your business's needs.
4. Optimize social media and email marketing
Optimize your social media and email marketing campaigns and initiatives by streamlining your workflows. Streamlined workflows can reduce your manual tasks, eliminate bottlenecks, and help you work more efficiently while spending less time, money, and resources, which is especially critical during difficult economic times.
Use social media management and email marketing platforms with features that allow you to set your social media and email marketing tasks on autopilot. For instance, you can use mailchimp to schedule sending welcome emails, abandoned cart reminders, order confirmations, and post-sale promotions. Mailchimp also lets you respond automatically to specific customer behaviors.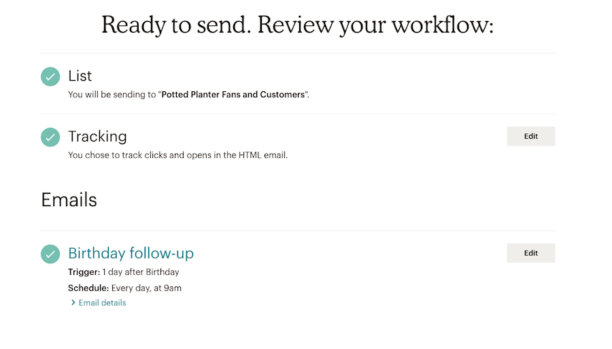 Image source: mailchimp.com.
You can also make your social media marketing workflows and tasks more efficient using popular social media management platforms. For example, buffers allows you to schedule your posts across social networks to auto-publish them on optimal dates and times.
Remember to monitor and analyze your results to track your performance on social media and email marketing campaigns. Dive into the data to identify what is working and what is not to improve your processes.
5. Offer Flexible Payment Options
Consider offering flexible financing or payment plans to help customers pay for your products. It can be beneficial for big-ticket items or for customers who may be struggling financially. Consider the following tips:
Offer flexible financing options. Some customers may hesitate to make large purchases due to economic uncertainty. Offer flexible financing options, such as deferred payment plans or layaway programs to help overcome these objections.
Implement flexible return policies. During a recession, customers may be more cautious about buying and more likely to return items. Offering flexible return policies, such as extended return periods or free returns, will help build trust and encourage customers to make more purchases with confidence.
Use payment gateways with flexible options. Choose a payment gateway with flexible payment options, such as splitting payments or accepting partial payments.
Allow multiple payment plan options. Consider offering monthly installations to make it easier for customers to pay for larger purchases. It can help increase sales and reduce the risk of default.
Achieve Ecommerce Success During a Recession
A recession is certainly daunting, but it does not mean all hope is lost. In fact, it might just be an opportunity to rise above the competition. Take advantage of the situation to find your unique competitive advantage and differentiate yourself from the rest.
By employing the strategies discussed in this article, you will be well on your way to helping your ecommerce business succeed in any economic condition. Moreover, you will emerge stronger at the end of the day.
the post Five Tips to Help Your Ecommerce Business Succeed in a Recession appeared first on Home Business Magazine.