This edition of Social Proof features a different story, offering the scenario of "what if my personal brand grew to be more than me?" That has been Tori Dunlap's experience as her project to save $100,000 before the age of 25 has grown into a business touching millions of people's lives.
The founder of multimillion-dollar brand HerFirst100k sat (zoomed?) with me for Social Proof about what happens when the brand that has been so reliant on your name grows more prominent than you.
As the interviewee with the largest audience of four million people across different social media platforms, Tori is an exciting deviation from the other impressive personalities we've met so far.
In this interview, we talk about growing out of the nine to five (even when you're not entirely confident), the power of social media to accelerate brand growth, and the exciting future of personal branding.
🖊️
This interview has been edited and condensed for clarity.
Q: It's so great to have you on for Social Proof, Tori! What do you think about personal branding in general? Have you been quite intentional about building yours?
If you were to ask me two years ago if HerFirst100k is a personal brand, I would say yes. But now it is so much bigger than that. And we're actually purposefully trying to make it not a personal brand. It is so tied to me, but we are now a team of 14, and HerFirst100k is a community of nearly four million people. So I think it's now more of a company that happens to be founded by me, and we're purposefully trying to make it not a personal brand.
In terms of what a personal brand is, I think it's how you choose to show up either in a business, online, or as an extension of yourself. So it can take various forms. And one of the biggest things that folks building a personal brand realize at some point is that it should be a part of you rather than all of you. And it also should be the part of you with something to say or some value to offer people. But that is separate from your inherent worth as a human being.
Q: And would you call what you have now a personal brand?
If I'm not playing small, I'm calling it an empire. But if I'm calling it something more realistic, it's an organization far beyond me and my personal story and has been for some time.
Q: You're very visible in a way previous Social Proof interviewees aren't. How does it feel to have your image so closely tied to such a massive brand in HerFirst100k?
Ninety-eight percent of the time, it's great, but that two percent is challenging. How long do you have on the business side? If you're not a person who runs a business and you see someone who is a business owner online, you might think they handle everything. This is especially true for a business like mine where I'm so visible.
But I obviously can't reply to every email or respond to every Instagram comment – that's just not possible. I think the creator world is still so veiled because people can think that one person runs an entire company. And that's made the personal side very challenging – it's hard to separate me from the business because I care so much about it.
It feels like an inverted pyramid where I have so much impact on the business that if something were to happen to me tomorrow, HerFirst100k might not exist. That's something we've had to consider over the past year.
A couple of other interesting things are that I'm making more money than ever, and I get recognized on the street. And if I go out, I wonder if someone recognizes me or is watching me – that's a weird feeling that I'm not used to yet. But people are always very kind, and we get messages every five minutes telling us that our work has changed lives – it's the coolest part of our work.
In addition, the perceived need to show up all of the time because if my face isn't on a TikTok, it doesn't perform as well. And so there are interesting expectations around the pace and consistency of the content that we have to create. And unfortunately, the content that I still need to be involved in for the success of the business. So again, these are all like strategic things that we're working on finding a better answer for.
Q: Now for my favorite question: what three words would you use to describe your/HerFirst100k's brand?
Feminist, educational, and unapologetic.
We are a financial education company, but ultimately, we are a feminist company that happens to use money as our medium. And I think that that's something a lot of people might not publicly understand. But privately, as a team, that's what we're laser-focused on. We are a feminist brand first, financial second.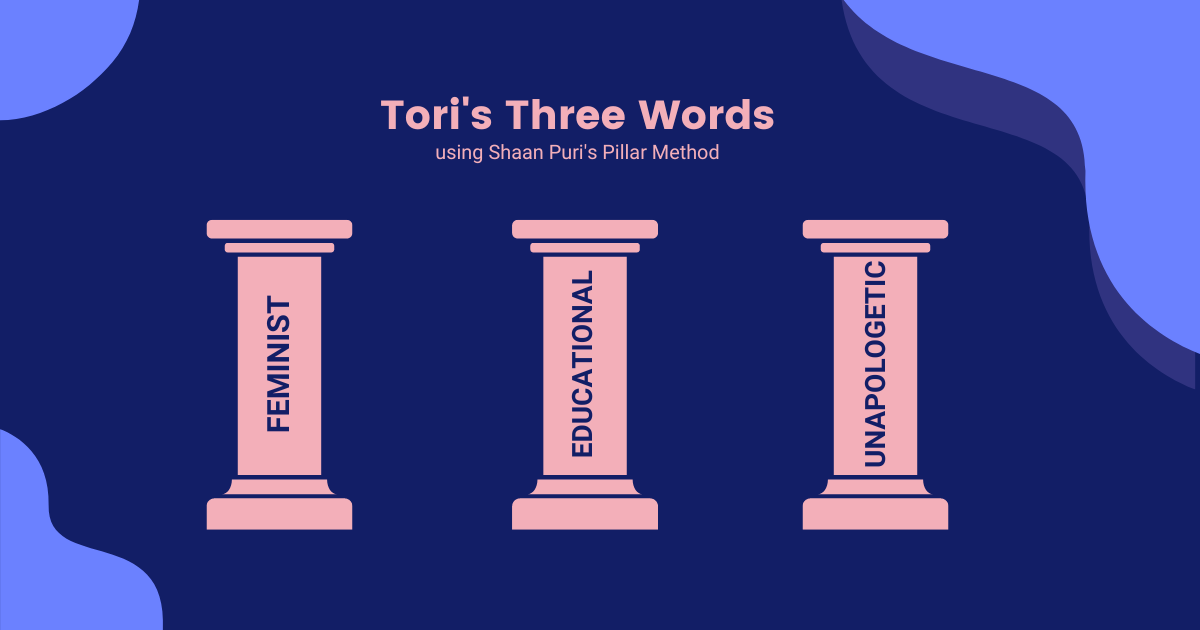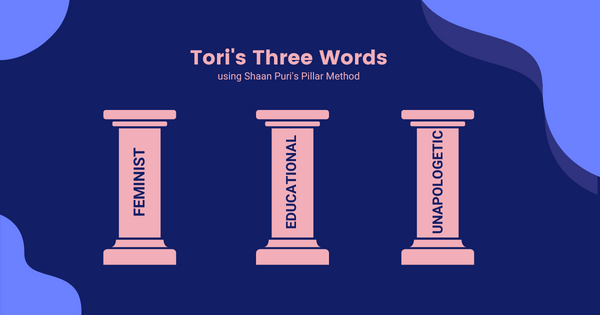 Q: Did your social media efforts start because you needed a marketing vehicle for HerFirst100k? Or were you already doing things on social media, and that led to you creating your business?
It was probably the latter because my background was in social media marketing. So the financial education business was not part of the plan. But I knew I wanted to be an entrepreneur. And so I was building a blog and a social media presence on the side of my nine to five.
Then through a couple of years of experimenting, I realized I wanted to have conversations about money and share education. So I feel like I knew a lot about social media, knew how to navigate it, knew how to tell stories, and was able to leverage those tools.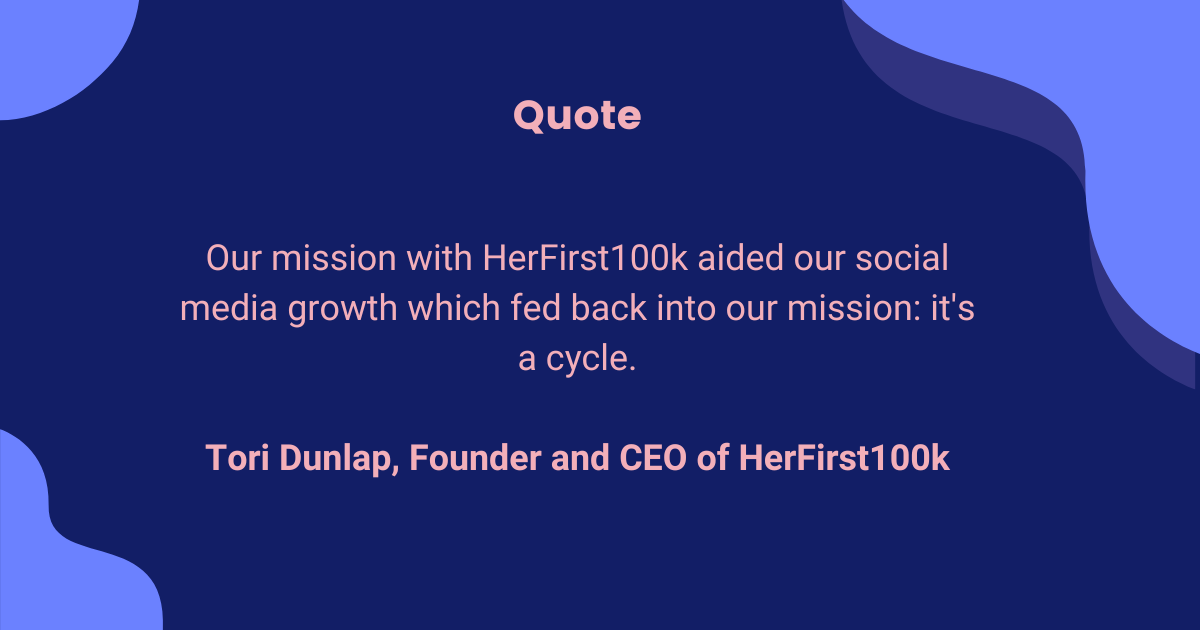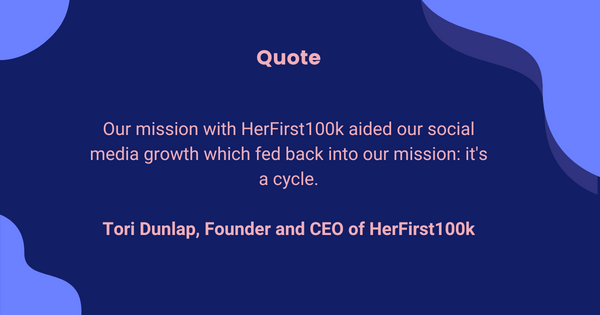 On the flip side, I don't think we really saw growth in our business until our social media grew, so I think they fed each other. I knew what I wanted to do in terms of marketing or figured that out along the way. It's a cycle: our mission with HerFirst100k aided our social media growth which fed back into our mission.
Q: At what point did you decide to leave your career in marketing to focus on your business?
I told myself from week two of working a corporate job, "This is not for me forever," because the plan was always to be an entrepreneur. I decided to quit once my business started consistently making as much money as my nine-to-five. And the weird thing that happened – because as the money person, you think I would have done this – I wasn't keeping track of how much my business was making.
Of course, I knew the numbers generally, but I didn't know what they were month over month. And I think that's because I would have had to quit if I knew. I saw the momentum, we'd started making some money, and I purposely wasn't crunching numbers because I would have had to keep the promise to myself. And that – quitting my job – felt very scary.
But while on vacation, I got the call for a Good Morning America, came back, and did the interview. Three weeks later, I quit my job and never looked back.
I'm financially independent at 28, we give women jobs, we're a multi-million dollar company – it was 100 percent the right choice.
Q: And how does it feel seeing the shift to brand-creator relationships not long after you left a company to become a creator?
I think it is a difference in how the work is changing, how the internet is changing, and how if you are not ready and interested in adopting these changes, you will get left behind. There are all sorts of exciting changes, and if you are unwilling to adapt and bring in new, diverse talent, you will miss out on significant benefits for your brand.
Q: Which of your efforts, prior to media attention on platforms like Good Morning America, was the turning point for you and your business?
Overnight successes only seem to have happened overnight because you discovered them overnight. I discover so many people that seem to have come out of nowhere. That's the same thing with me – you didn't hear about me for years, but I've been building for seven years. So there were two of those turning points before the media attention and seeming overnight success.
The first key moment was when I rebranded my business in 2018. Technically, our business is still called Victory Media which is the umbrella under which HerFirst100k exists. And while I still love that name, it had nothing to do with what the company does. If I was quoted in an article, no one would know what my company does from the name Victory Media'. Rebranding to HerFirst100k was not only very clear, but it also says in the title who exactly I'm appealing to.
The second biggest turning point was 100 percent getting on TikTok in July 2020. A video went viral not long after we started posting; it was growth like I had never seen before. We went from, I think, 2000 followers to around 200,000 or more within a few weeks. We had another video go viral in 2021, which is our most viewed video and has seven million views. It drove 100,000 email subscribers to our newsletter in a week – just from that one video.
Making bank teaching women how to make bank. #smallbusiness #clownshit #personalfinance feminist #moneytips #adulting #manifesting #businessowner
♬ trump sells like poo poo (Apashe – Sand Storm feat. Odalisk) – ⁺˚*・༓☾haya☽༓・*˚
It was the opportune time – everybody was on TikTok at the time and bored at home. I was the same, consuming content for about four months before I started creating it. And I think that really helped because I could understand trends, what worked and what didn't.
We now have 2.2 million followers, it's increased our Instagram following tenfold, it's probably quadrupled our revenue, and it's been the driver of our podcast success. It's just changed absolutely everything. So I think those were our two big turning points: changing the name of the business at least publicly and then starting on Tik Tok and navigating our platform.
Q: If you could tell younger Tori anything, what would it be?
I talk to her all the time – she's so proud of me, and I'm so proud of her. I'd tell her to chill out first of all. My ambition is the reason I am where I am, but it also, sometimes, makes me miserable. Because the interesting thing is, that I had people I looked up to and compared myself to for a long time. For example, I discovered Jenna Kutcher, who's amazing and already had a massive platform in 2016. And I remember looking at her and thinking – I can do that, I can have that business.
I would post on Instagram, or I would send an email, and I wouldn't see any growth. And I'd be really frustrated. Because again, the overnight success thing. I discovered her now, and so I want what she has now. But she had grown to be so successful over multiple years, and I got so impatient that I wasn't seeing the same amount of success at the pace I wanted. We're now colleagues, but I look back on that and can see that I had to go through the years to reach a certain point, just like everybody else.
Even if you know you're capable of something, it won't work out as you expect if it's not the right time. You have to make all the mistakes and learn all the ropes to reach the same level of success. If future me showed up to past me and gave me Jenna Kutchner's business, I wouldn't have been able to support it. I did not have the bandwidth, expertise, confidence, or knowledge to do that. I didn't have the boundaries to be able to do that.
You have to patiently build that over time till you get to the point where you can build the business that you want. It has to come through time and patience, and dedication. So to younger me, who was so ambitious – much like my current self – I would tell her that she's capable, but it'll take a bit of time to get to where she wants.
Q: What downsides have you experienced as a creator with such a large platform?
The lack of separation emotionally for me because I care so much about this. Feedback hurts more, both necessary feedback and criticism because it's directed at me and not at the company that happens to be led by me. I think people are more likely to give that criticism because they feel like I'm going to see it and read it and internalize it. And they're usually right, I've usually seen it. As someone who often is very vocal about issues, I feel like doing so opens me up to a lot of criticism. Because if I'm vocal, other people will be vocal about me.
Also, getting recognized can be really beautiful but comes with its own challenges.
And the biggest one is that I will screw up. I'm often scared that people won't offer the grace I hope they will, and I feel there's very little forgiveness for people online. But I'm hoping that people have the grace to understand that I will do my best to acknowledge my mistakes, make them right, and learn.
Q: With the context of your journey, what do you see as the future of personal branding?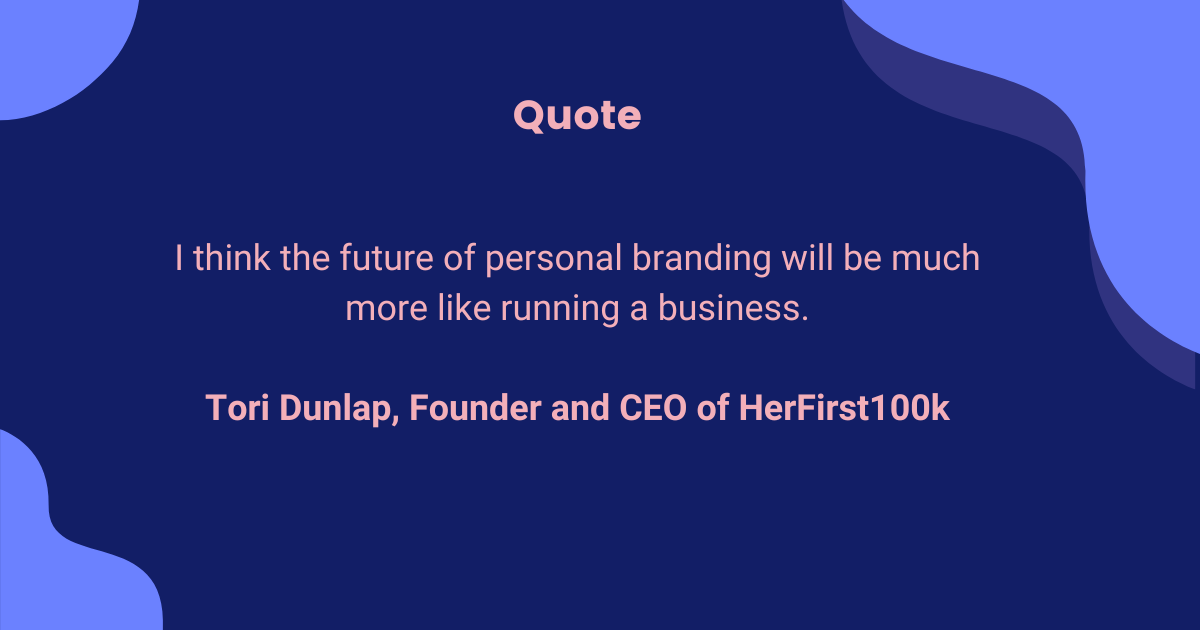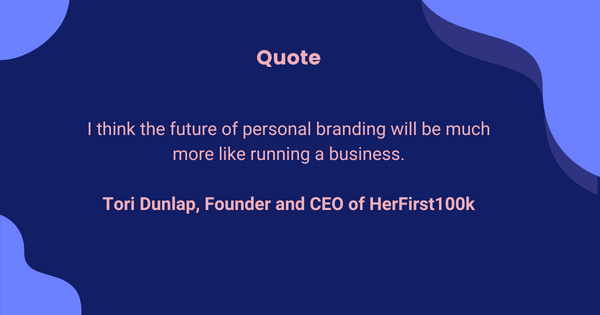 When you think about people with a strong personal brand like Oprah, whose name has become so well-known but is a huge business with many people working behind the scenes, in reality. It's Oprah's book club, the Oprah network, and Oprah magazine, but no one thinks she's writing the whole magazine herself. But with most online creators, if you're not paying attention, you may still think that the people with huge platforms are doing so much work alone. That's just not the case.
So I think the future of personal branding will be much more like running a business. Even the perception of a personal brand doesn't feel as legitimate as saying, you know, I'm a C Corp or an LLC. And that will also change how consumers think about brands. It will become more widely known and accepted that the people you see online likely have a team supporting their creative efforts, no matter how relatable they are. In addition, I hope people will understand that it's hard to grow at the same rate as their favorite creators without that team. So it would help mitigate creator burnout and develop a personal brand.
There's also an opportunity there for people to connect with a company and a mission to foster diverse thoughts, general diversity, and connection with many people around a particular mission. Again, this is a far better option than having one person grow until they become an almost godlike figure. And as we know, godlike figures are never, ever a good idea.
Takeaways
Like I said in the intro, this interview was a departure from the other Social Proof installments we've done. Tori's turned her personal brand into a business, bringing a different perspective to successfully growing an online reputation. Here are some of my favorite takeaways from our conversation:
The future of personal branding will be operating like a business: Tori makes a great point that even if someone is the face of a big project, there's often a large team supporting them. In practice, this might look like creating video content and paying someone else to edit or using a personal assistant. A great example of a personal brand-turned-business like Tori's is Ali Abdaal's growth from a team of one to a team of twenty-one (as of December 2021). To scale his content operations, Ali runs his creative platforms like a company – we may begin to see more of this, albeit on a smaller scale.
Patience is vital as you grow and scale your personal brand: Tori's business has an audience of nearly 4 million people, but that didn't come overnight. It took years – and consistency – to build HerFirst100k to where it is today. When building your personal brand, you must be patient and persistent at publishing content and engaging with people to see the long-term impact.
There's no project too niche to share: An interesting highlight of this interview was Tori breaking down the choice to name the business HerFirst100k. It's so specific because that's what she started sharing content around – saving $100,000 – but also because it clearly states who the business is for. There are people of all genders that might be trying to save more or less money, and they could benefit from the content being shared, but the business knows exactly who its audience is. The takeaway is to a) get specific and b) share your seemingly too-specific pursuits because there's an audience for almost everything.
Looking for ways to improve your processes to scale your personal brand? Try Buffer for consistent content scheduling.