There's no questioning the value of a high-end website. Your website acts as the hub for all of your digital activity, and it needs to be a big part of your online presence. However, not every new company can hire a professional designer for web design.
If you want a highly-functional website with advanced features and tools, you'll need to go to a professional.
However, some free web design tools are available to beginners and non-professionals who want to create their own websites. In this list, we'll provide some of the best free web design tools and help you understand which is best for you.
Download this post by entering your email below
Source: Wix
1. Wix
Wix is ​​one of the biggest names in free web design. It is a website builder with many different types of pricing plans, including a free version.
You can use Wix to create many types of websites, including blogs, e-commerce sites, and online stores. There are many free features that are great for people who are new to web design but want an alternative to WordPress, which can be very hands-on.
Main features
Wix has extensive web design tools and a drag-and-drop editor that is useful to people who are new to web design and don't have any web development experience.
It also offers content management tools for the websites you build and online collaboration, so multiple team members can work on pages together.
Another major benefit of Wix is ​​fully managed hosting and maintenance services. That includes things like site hosting, security protection, and backups.
However, this is part of a paid subscription. The free version still offers hosting—with Wix branding—and many templates and themes to pick from.
pros
Simple builder for those who want to avoid the complications of WordPress
Provides an all-in-one solution for web hosting
Library of free templates and themes for web design
cons
Limited functionality in the free version of hosting
Fewer plugins and add-on options than in WordPress
Page layouts tend to be fairly simplistic rather than creative
What customers say
Customers really like how Wix provides a simple, easy website builder for beginners to web design.
It has many great options for new businesses that want a website without advanced design or coding. However, it still is not as accessible as tools like Canva, and customers also don't like how limited the customer service is.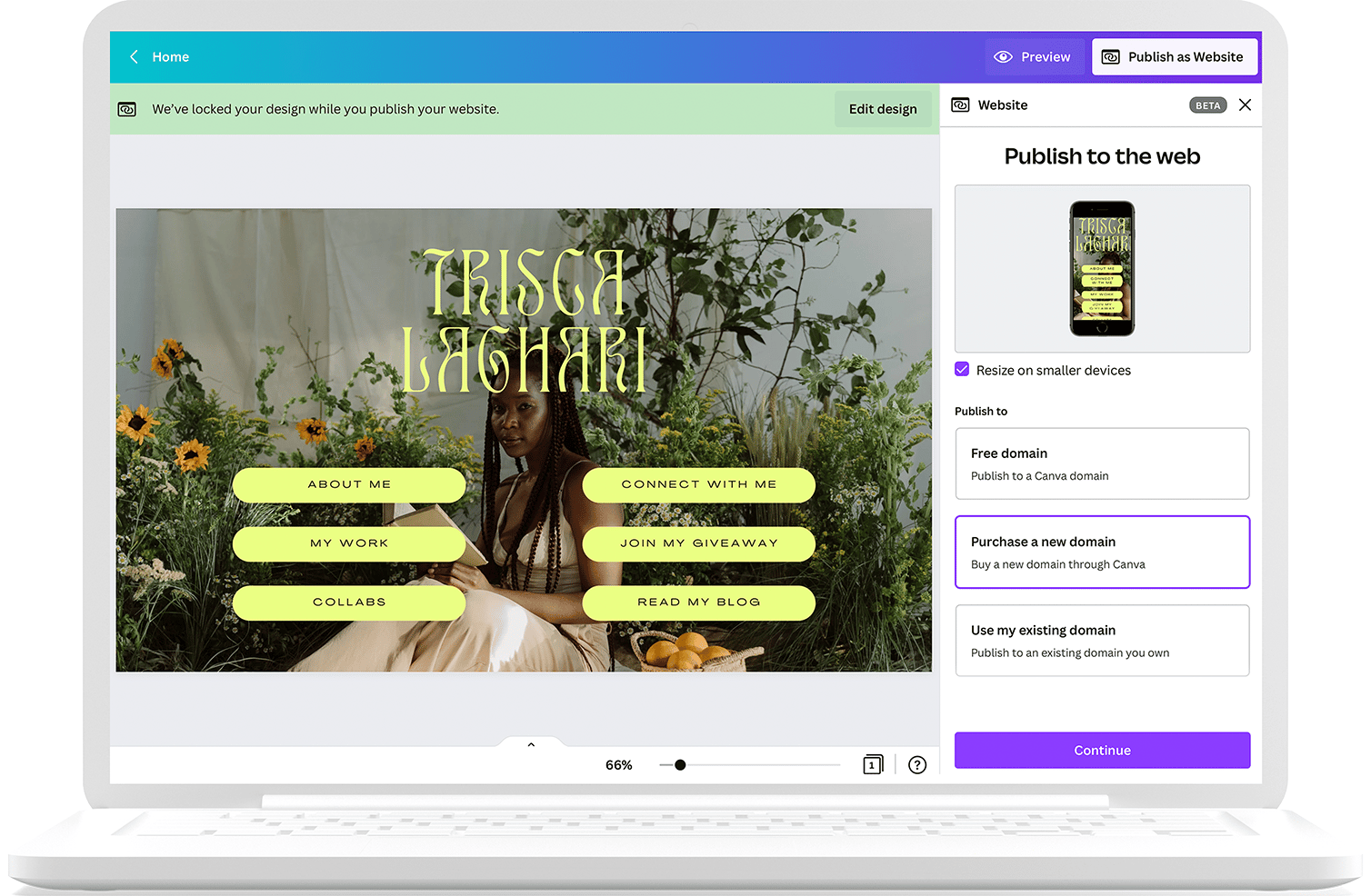 Source: Canva
2. Canvas
While traditionally a graphic design platform, Canva also offers web design capabilities. Using a library of web page templates, users can customize and add their own spin on hundreds of different base templates.
Canva has a user-friendly interface and an easy drag-and-drop editor that makes building webpages that look professional and modern, even for people with no experience.
Main features
The main features of Canva for web building include the vast Web design template library.
This library has different types of web pages, like about pages, portfolios, and service solutions, so you can find the best template for your needs. You can then customize the template with your own colors, images, and typography.
Another main feature is the drag and drop editor. This user-friendly editor makes it easy for teams to make aesthetically-pleasing web pages without any previous design experience.
There are also free images, graphics, and other elements that can be added to web pages.
pros
Endless customization opportunities
Free hosting with some Canva branding elements
Easy to use
cons
Difficult to search through templates
Not built for SEO
Limited functionality for eCommerce or blogging
What customers say
Customers love how easy it is to use Canva and the wide variety of page templates that can be used. They also like how it ties into other marketing tools provided by the platform.
However, they don't like that many design elements and templates are only available to premium users, not the free version.
Source: WordPress
3. WordPress
WordPress is one of the biggest names in web design. It's an open-source CMS with many out-of-the-box features that can be accessed for free.
It also has thousands of different plugins that you can use to modify and improve the base design you create. This allows you to customize your website and come up with a design that works for your type of business or personal website needs.
Main features
One of the biggest features of WordPress is the plugins that can be added to your website. These plug-ins include different editors for your webpage management, blogging, forms, eCommerce, and more.
Another feature of WordPress is the blogging feature. Many free web design tools lack a blog design and require a separate tool to start blogging. WordPress has blogs built in for free, so you can get started on content creation right away.
WordPress is also user-friendly, with a large community of support. Many users answer questions on discussion boards and open posts to help you with any issues.
The tools included in the editor are made so that people without web design experience can still utilize the platform.
pros
Very popular CMS
Open source, which means unlimited customization
Plugins, themes, and templates to help improve web design
cons
Still need to pay for the domain and hosting
Requires attention to customize and create web pages
Potential security issues that leave websites vulnerable
What customers say
Customers enjoy how easy it is to use WordPress and how it creates a professional-looking website with little effort. However, they wish there was more support from the WordPress team itself, which isn't available to people using the platform's free version.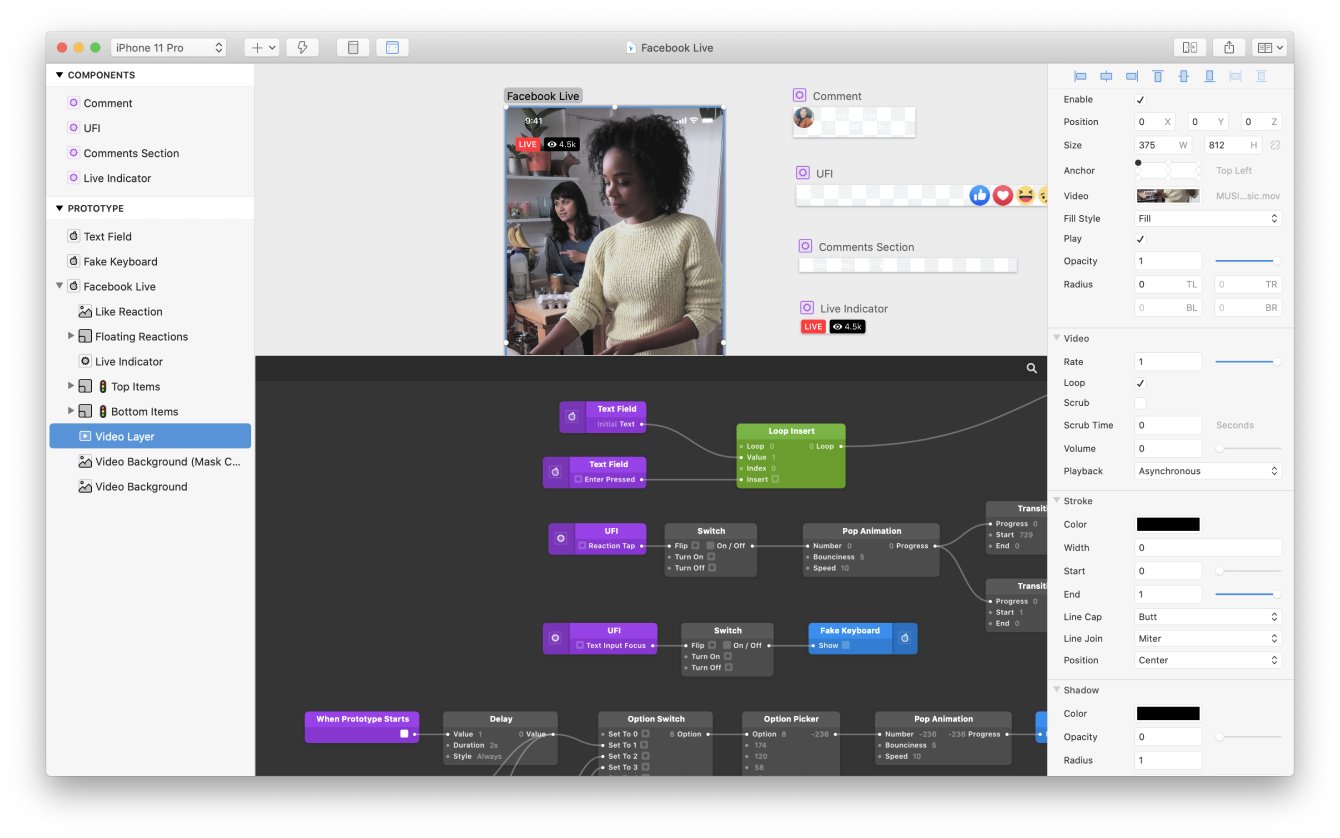 Source: Origami
4.Origami
Origami is a free tool from the designers of Facebook. It helps you build mobile prototypes and wireframes perfect for mobile-based applications and websites. It also has many animation and screen interactivity tools, like timings, animation types, triggers, and spacing.
Origami can also connect with other tools like Figma for even more features.
Main features
The biggest feature of Origami is its animation abilities. Using UI design, Origami allows you to set micro-interactions and animations to your web designs that help increase the professional appearance of your website.
It also creates a better experience for your web visitors.
Origami is best for prototyping and wireframing a web design for mobile applications. Rather than focusing on the desktop layout and making it work on the mobile screen, it starts small and scales up as needed.
pros
Easy to create animations and micro-interactions
Perfect for mobile-first design
Works with other tools like Figma for better interconnectivity
cons
Limited collaboration features
Not as user-friendly and easy to use as other free web design tools
Limited customer support for issues or bugs
What customers say
Customers of Origami like that it puts mobile design at the forefront but don't like how they can't get answers from a support team when issues arrive. They also can struggle to understand how to use the tool, as it lacks an easy-to-use editor like Wix or Canva.
Source: Figma
5. Figma
Figma is a web design tool and interface design application that helps people work collaboratively to improve the design process and create a great website.
The free tool includes unlimited drafts, editors, and commenters, which helps it become a great team-building tool as well.
Main features
The main feature of Figma is the collaboration capabilities it provides. Multiple designers, team members, and stakeholders can utilize the web application together so that web building becomes a collaborative effort.
This is different from other free tools that limit users and only allow changes from one person at a time.
Figma is also great for wireframing and prototyping websites. Multiple people can come together and create a wireframe for a web design using the free tool, then send the wireframes to a developer to build out.
pros
Helpful for teams that want to work together on prototyping
Real-time collaboration, unlike single-user tools
Unlimited drafts but limited projects
cons
The collaboration tools are somewhat limited in the free version
Occasional performance issues
Only 30 days of historical changes
What customers say
Customers like that Figma provides collaboration capabilities, unlike almost all other web design applications. They also like that the team provides consistent upgrades so that the platform is evolving and improving.
However, they dislike that it takes so much time to install plugins and has limited offline capabilities.
Get More Results with a Professional Web Designer
There are many different options you can consider when you need to build a website. While forgoing a website isn't an option, you can still create an effective web design using a free tool rather than an expensive developer or premium plan.
However, remember if you use a free tool, you will always be limited by the platform. If you want to create a truly original, optimized, and growth-focused website, you'll need to find a professional web designer.
A professional can take a simple, out-of-the-box website to the next level and provide custom code you can't get in a free builder.
If you are looking for a professional to help you with web design services, look no further than WriterAccess. We have vetted highly-skilled developers to help you create a fantastic website and deliver an exceptional user experience.
To learn more or order your web design today, visit WriterAccess for a free 14-day trial.